Though once popular for an overnight trek to the New Denver Glacier or as a day hike from the beach campground to the prominent waterfall at the head of the first hanging valley, the Sharp Creek Trail has received little maintenance for years. Early on the morning of August 22, 2019, eleven volunteers from New Denver crossed Slocan Lake to clear windfalls and brush ingrowth on the trail as far as the waterfall.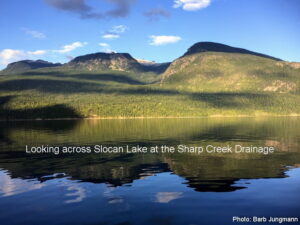 One chainsaw party ascended to the waterfall and worked downwards, another cleared upwards from the shoreline and a third team leapfrogged ahead of the lower crew to tackle the middle section. A group with loppers cleared the ingrowth on the lower section of trail but also managed a quick pass up most of the way through the first hanging valley.
Somewhat to everyone's surprise, the operation was completed by noon. The first 3.5 km of the trail was completely cleared of the numerous windfalls leaving time for a picnic lunch at the beach and an afternoon off in the sunshine. Organized as a FWKP project by member Phil Whitfield with support from neighbour Lloyd Bazay, the work party included Mike and Althea Shaw, Karen Thomas, Barb Jungmann, Brad Raymond, Tony Heim, Hank Hastings, John Fyke and K.L. Kivi. Crucial logistical support (lunch!) was provided by Irene Whitfield and Cathy Bazay.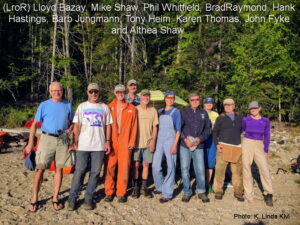 Even though the Glacier continues to shrink, the improved access promises to restore the Sharp Creek Trail as a key day and backcountry recreational feature in northern Valhalla Park. Currently, the North Slocan Trails Society has offered to provide annual maintenance for it under their Stewardship Agreement which already covers the lower portion of the Wee Sandy Creek Trail.
Update, Summer 2020
BC Parks had been hesitating to maintain the trail because of a longstanding problem with its route through the slide alder and rapidly growing seasonal vegetation on a huge slide path at the head of the second hanging valley. However, funding came through for a contractor to both relocate the slide section of the trail and complete the removal of windfalls from the first headwall waterfall up to the meadows below the glacier in mid-July 2020. The trail almost immediately received more hikers than it had probably seen over the previous decade.
Text by Phil Whitfield