The painting project starts off with a pressure washing of the outside of the building below the deck. Because there's no water at the site, an Initial Attack Unit Crew from the Ministry of Forests, Lands and Natural Resource Operations come to assist us with pumping water up from the parking lot. This year, the crew consisted of Lead Hand Kat Hale, Joe Esnouf and Kevin Lewis. Friends volunteers Bill Bryce, Fred Thiessen and Delia Roberts and BC Parks Senior Ranger Kendra Wood met them on the 8:10 ferry on April 26. The weather was ideal and the job went off without a hitch. Thanks to FLNRO for their invaluable help.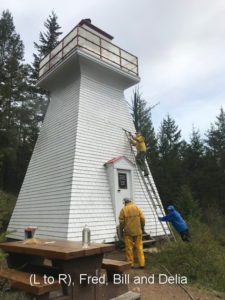 After a couple of week more of planning and preparation, Bill Bryce, Sue and Bert Port, Bobbie Maras and Eric Sargent met on the ferry on May 11 to kick off three days of preparation and painting. The preparation involved scouring the washed shingles to rough up the surface, and removing the lexan safety panels on the upper deck. On day two more painting and prep with Bill, Bert and Sue (who had stayed overnight in their camper van - they got an early start early in the morning while it was still cool). On Monday, Bill and Eric finished off the prep and continued with the painting.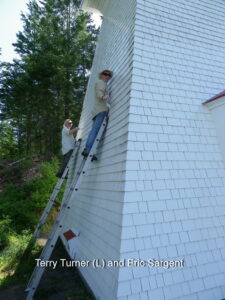 There were 5 more days of painting, with volunteers crews of 2 up to 5 consisting of Ron Groom, Fred Thiessen, John Pollock, Peter Jordan Terry Turner, Bill, Eric and Bobbie. Thanks to our hard-working volunteers.