June 27/17
Cody Cave trail construction project
Organizer John Pollack is looking for volunteers for three dates, Thursday June 29, Tuesday July 4, and Friday July 14. The work involves building a brand new trail bed along a 1.3km loop that will eventually include interpretive signage. Pulaski's, rakes and loppers will be needed - John can supply some tools. If you are interested, reply directly to John at [john-pollack at shaw.ca], letting him know when you are available and what tools you have. John is also suggesting that bear spray is a prerequisite and you will need water, lunch, work gloves, bug repellent and if the weather is questionable, bring rain gear.
June 27/17
Volunteer Reports

The June 4 trail clearing project at Kokanee Creek Provincial Park was a great success. The Canyon, Pine and Woodland Trails were brushed and cleared of deadfall by lunch by the volunteers who attended.
One June 24, 5 volunteers hiked into the compressor site on the Earl Grey Trail and assembled and erected the prefabricated kiosk which will shelter an interpretation sign. The sign itself will be taken in and installed later in July.
May 30/17
Volunteer Opportunities 2017

Kokanee Creek Trail Clearing, June 4
Join us at the Nature Centre on Sunday, June 4 for a morning of trail clearing. Click here for more details. If you are unfamiliar with the trails in Kokanee Creek Park, click on this map.

Cody Caves Trail Construction, date to be determined
During the late spring and summer, there will be one or possibly more opportunities to work on the construction of a short intrepretive trail that will take hikers past points of interest in Cody Caves Provincial Park . The right of way of the trail has been largely cleared of brush but a trail bed needs to be constructed. Return to this page regularly for dates.

Earl Grey Trail Interpretive Sign Installation, date to be determined
During the latter part of June, a crew will be needed to help install an interpretive sign kiosk at the compressor site on the trail. This will involve helping to pack in some tools and assisting in putting together a prefabricated kiosk that will shelter the sign. The materials for the sign were, for the most part, flown to the site last summer and the post holes were dug last fall. Return to this page regularly for the date.

Woodbury Creek Trail Clearing, date to be determined
Late in August, there are plans to hike in to the Woodbury Cabin and clear the upper part of the trail. This will be an overnight trip, accommodation at the cabin courtesy of the Alpine Club of Canada. Return to this page regularly for the dates.

Don't want to miss out? Join the Friends of West Kootenay Parks for a modest $10 yearly fee (click on the "Join/Donate" tab). You will be automatically notified by email of the details and dates of our volunteer projects and as bonuses, you will be eligible to submit your name to our annual ski week in Kokanee Glacier Park (click on the "Ski Week" tab for more information), you will get a 10% member discount at Valhalla Pure (Nelson store, some exclusions) and you will get to meet like-minded supporters of BC Parks.
April 19/17
Earth Day at Sandspit Beach
Bring your friends and family to a beach cleanup on Earth Day, Saturday Apr 22 from 1-3 in the afternoon. Thanks to our friends at Valhalla Pure, the Kootenay Co-op, and Oso Negro there will be prizes and refreshments. Bring gloves and a smile - see you on Saturday.
April 9/17
Spring Update
Following on a very productive 2016, we have lots of volunteer opportunities lined up. On Earth Day, Saturday Apr 22, join us at Sandspit Beach in Kokanee Creek Park for a beach cleanup from 1-3PM. Watch this page for more details in the next few days.
On Sunday June 4, there will be a trail clearing in Kokanee Creek Park. Times and other details will be posted here as they become available.
There will be two other projects involving trails. The new interpretation trail in Cody Caves Provincial Park which was located and brushed last summer will be the focus for some intensive trail building this year. If you're interested in contributing to the establishment of a brand new trail, this is for you. The other project involves the Woodbury Creek Trail. Although it has received attention several times over the past five years, the upper part of the trail needs more attention. A crew will hike in to the upper part of the trail and stay in the cabin overnight. Sound like fun? Watch for details.
March 18/17
Annual General Meeting
Join us at the Nelson Chamber of Commerce at 7PM on March 27 for our AGM. We'll recap 2016 and let you know what's coming in 2017. Douglas Noblet will be there with a presentation on his Traverse of the Selkirks. Refreshments.
Aug 15/16
Redfish Festival
Make a note on your calendar to reserve Sunday Aug 28 for the annual Redfish Festival. This increasingly popular event highlights the return of the spawning Kokanee salmon.
July 30/16
BC Parks in the news
Within two days of each other, publications in very different parts of the country published articles on the state of the (political) management of BC Parks. On July 13, The Valley Voice published an article by Art Joyce and 2 days later, the Globe and Mail published a column by Joan Sawicki. They both address an issue which will not be new to anyone who has followed the fortunes of BC Parks for the last 15 years but they underscore the reality of the problem. Both Sawicki's column and Joyce's article cite the 1990's as the root of the problem. As a volunteer for the Friends of West Kootenay Parks since 1990, I cannot recall a budget of any government that held the line on spending much less increased it. Art Joyce has gone into more detail with his research which brings the extent of the problem into a much clearer focus (although I should point out that interpretive programming in BC Parks was eliminated starting in 2002, not 2009).  Sadly, Sawicki's analysis of the political reality of funding for BC Parks and the role of volunteers is likely correct.
June 26/16
Beatrice Lake Trail Update
The Trails Committee have updated information for volunteers of the June 29/30 trail clearing project. BC Parks will be doing the water transportation.  The pick-up times are 9:00 AM at Slocan City Beach and 4:00 PM at Evans Beach.  Please arrive about 15 minutes early to load gear and park your vehicles.  Speaking of which, there is plenty of parking at the city beach in Slocan and I haven't had any problems leaving a car there overnight or all day, but it's wise not to leave anything attractive and visible in your vehicle.  I'm not sure about cell coverage at Slocan City, but if you encounter a delay in making the 9:00 AM rendezvous, you can try and call Dave Heagy on his cell at 354-9112 to let him know.   For more detailed information on the project, click here for a .pdf file.
June 5/16
Volunteer at Home
Terry and Ursula are looking for some folks handy with a jigsaw who could cut out an outline of Kokanee salmon to be used as signs in Kokanee Creek Park during the spawning run. They will supply the plywood scraps and the template.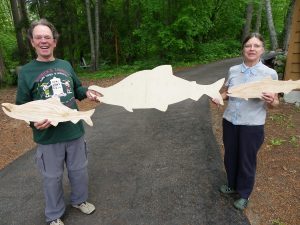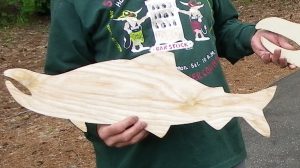 If you're interested, get in touch at contactus@fwkp.ca.